220518 – FOUR FOR / RESIDENCY @ EPSM -28 > 31/05/18
Thanks to Le Vivat, we're back to the roots in the Maison des Artistes of EPSM, the Public Psychiatric Hospital of Armentières where I'm having a 10-year-run party, hoping for a discount in case of a forthcoming neurotic break. With Antoine Cegarra / Juliette Chaigneau / Barbara Dang / Antoine Villeret.
Four For will be created on the 26th of february 2019 @ Le Phénix (Valenciennes).
---
150418 – FOUR FOR / RESIDENCY @ PACT – ZOLLVEREIN 03 > 15 APRIL 2018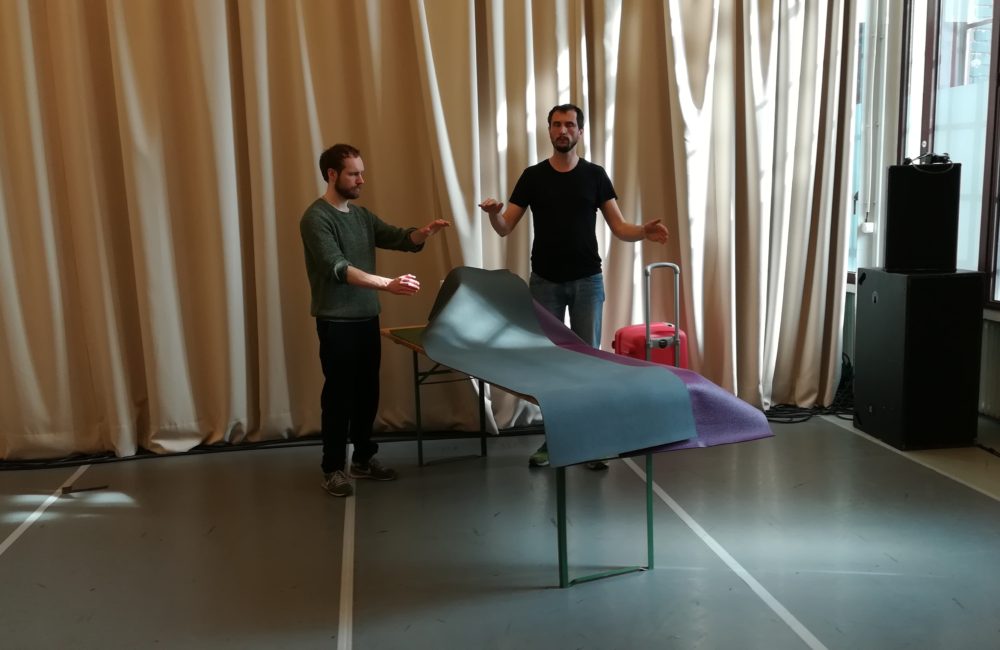 Deutschland Deustchland, Bleiche Mütter, as Der Plan used to sing.
---
020218 – FOR MORTON FELDMAN@LA GAITE LYRIQUE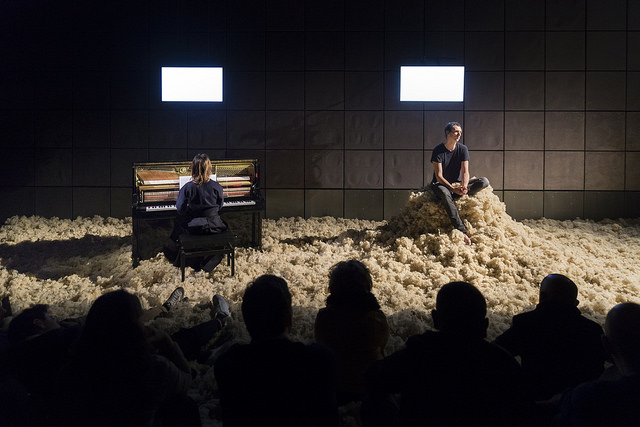 Exceptional re-run of this short form at la Gaité Lyrique for four shows on 2 and 3 feb in  "biennale Arcadi  – Sors de ce corps.
> Teaser
---
091117 – FOUR FOR / IN RESIDENCY IN OPERA DE LILLE

Very happy to work in my hometown. Pure research… We are still very intimidated by the amount of work. "Four For" is a follow-up of a small piece, "For Morton Feldman", created in march 2017 . This larger piece « Four For », will be created in february 2019 in Le Phénix (Valenciennes).
---
221017 – TWO WORKSHOPS « THESE ARE THE RULES OF THIS SPACE »
During the lovely  Melbourne Festival, I gave a 2-days workshop dedicated to makers, performers and scholars.
I also gave another 5-days workshop featuring Dominique Gilliot, for the Master of Theater Practices of the ArtEZ  art school (Arnhem, Netherlands).
---
090517 – NEXT SEASON
16-17 :  a season of changes, devoted to the tour of Corps Diplomatique, and launching a cycle of short forms taking us until spring 2019.
17-18 : here's our take on that season : mental apnea, reading on house arrest until I pass out, working fast but on the long run.
080517 – POSTPRODUCTION
10 days residency at BudaKunstenCentrum doing postproduction on For Morton Feldman, and opening the research on Four For, the next project.
---
120317 -FOR MORTON FELDMAN
Done. Twenty days of creation. Nine days on stage. One pianist. One text. We should do this some other time.

>I want to know more.
---
CORPS DIPLOMATIQUE
Second season for Corps Diplomatique, welcoming Juliette Chaigneau, new actress in the cast, for our 50th gig of the show, all across France (and Norway). Worsening our carbon footprint, one show at a time.

---
CORPS ALPHA
After training two groups of astronauts in PACT Zollverein (Essen) and Théâtre Nanterre-Amandiers, we are doing a workshop for young artists in TAP (Poitiers). We will make cosmic art warriors out of those wimps. Including : dance under self-hypnosis with Mylène Benoit, moderate geekery with Antoine Villeret and dramaturgy for non-conventional life forms.

---
RECITAL
Starting a research on a freeform interpretation of the concept of recital. A work in progress will be presented at La Pop  , 11-12 mars 2017 in Paris. Ears are required. Enough said.

Bravo Zoulou, in international flag code, means « well done ». This new company is now the production tool for my artistic work. After founding and assuming artistic co-direction of l'amicale de production for eight years, I decided to develop my projects independently. La Magnanerie, a production house, is in charge with its administration.