Workshop Corps Diplomatique Alpha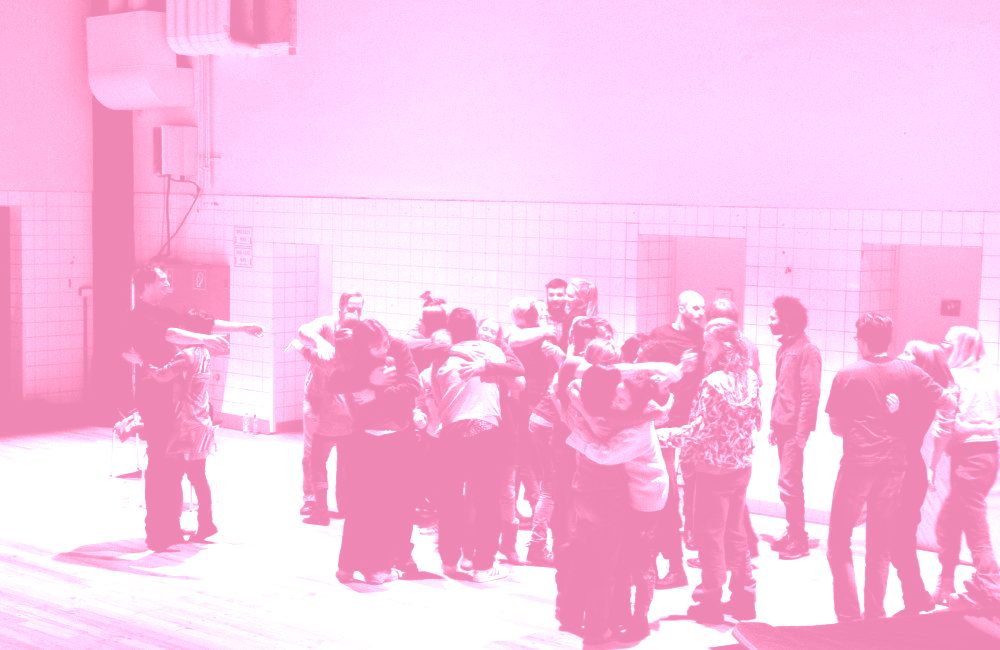 In Corps Diplomatique, the characters' project may be twisted and weird, it still has some interest, artistically speaking. The play stages the failure of a group, for dramatic purposes. But it also evokes a second group called «corps alpha» who seem to obtain excellent results. We never see them in the show, but in the workshop, we give an opportunity to the participants to be in the situation of this alpha group, whom we suppose to be better organized and not heavily depressed.
Our goal is to help them create small forms in a few days, that will deal with visual language, intermedia translation, and group stage writing for aliens.
The workshop incorporates movement study, to open their perception and broaden their stage presence.
Mylène Benoit, choreographer (Contour Progressif) and collaborator on the play, uses tools developed in her own body of work. She proposes half-day trainings that deal with altering the natural functioning of the body (being the alien is knowing the alien), and with group rituals (new new age), while offering support on dramaturgy when the times come for building small forms together.
MISSION ORDER
Participants must conceive one or more small pieces whose goal is :
to establish a communication protocol
to use it in order to present the specificities of our civilization
to produce a singular aesthetic experience
And all that for two audiences :
one that is composed of fictional (or portrayed) entities that have a different culture, impredictible expectations, and weird sensory organs. They are usually intelligent, and non-feisty.
the rest of the group + sometimes a small audience if everybody feels confortable with it.
Participants have to :
1 – pick relevant information
group reflexion on how a multimedia corpus is constructed.
constitution of that corpus
learning how to think for the stage, how to adapt material to stage requirements, in a back an forth movement throughout the workshop
2 – encoding those informations as a performance
pair content and container, trying to broaden their individual practice
explore new expressions bound to mix : performance / song / multimedia narrative/ dance / poetry / concert / powerpoint / stand-up etc
INTERACTION DESIGN
We have had quite a lot of experience with interaction design for stage since 2004 (Germinal / &&&&& & &&&…), which gives us solid bases to confront participants with various case studies in contemporary stage writing. And then empower them in using that for their own body of work.
If budget and time allows it, we can provide assistance from a skilled developer (Antoine Villeret) that has stage experience, who can join us to help participants build tools needed to materialize their vision.
With those that have experience, it can work as an applied masterclass in which their position as developers will help other members of the group. With those who don't, it will help with understanding the workflow in interaction design for stage.
In each case, his presence provides technical support for each group's project.
METHOD
build small size groups (3 to 6 maximum) ideally mixing different profiles
present them with case studies on interaction design for stage writing
pass on directing techniques and collaboration methods
help them develop solutions (or getting them developed !) for digital stage management, of all sizes and complexity
get them to present one or more small pieces in autonomy
As for us : we act as facilitators and try only to provide assistance, and reality-checking. Depending on the autonomy of each group, our place can vary in the process. But we do our best to make participants the point of origin of all content.